We're glad you are here! We invite you to connect with us to support activities for a healthier environment in Gippsland.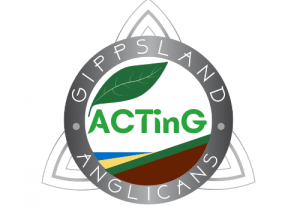 Gippsland Anglicans is working to care for God's creation. We live on bountiful Country that has been wounded through the processes of industrialisation around the globe, and past agricultural practises that do not suit the Australian environment.
The ACTinG working group promotes action and awareness of environmental action on climate change amongst its members.
Did you know?
A climate action motion was made at the Anglican Church of Australia's decision-making forum in May 2022 (Find out more about 'General Synod' here. Read about the motion here. Our Registrar, Mr Richard Connelly, spoke to the motion. You can watch it here (4:51).
In June 2022, the Gippsland Synod will meet and climate action is expected to be a key topic.
2022 Season of Creation Festival (1 Sept - 4 Oct)
Between 1st September (Day of Prayer for Creation) and 4th October (the Feast of St Francis of Assisi, the patron saint of ecology), religious leaders around the world urge the faithful to attend to our care for creation. Read more about the Season of Creation here
In Gippsland, please hold the date to join in the Abbey Feast on 10 September. This year, our challenge is to prepare a feast using only sustainably-produced local food (and to be honest, that's pretty simple when we live in a food bowl region!). We hope to encourage a daily commitment in people to shop local and eat seasonally.
Towards Zero - Connecting Faith and Action
The Uniting Church in Australia, through the leadership and work of Rev Dr Ji Zhang, has published the 'Towards Zero' Vimeo series. With their permission, we are pleased to share the Towards Zero Vimeo series here for you to watch and learn from. Please visit the Uniting Church in Australia website for the supporting resources.
Rev Dr Zhang shows us the real possibility of becoming carbon neutral as a household, a congregation, a network of agencies and a whole church Uniting Church in Australia website, 'Towards Zero' https://uniting.church/towards-zero-2/
Watch Towards Zero, and check out the supporting resources