In March 2023, the first episode of 'Gippsland Anglicans On Air' will be broadcast on 103.9 Life FM radio, Gippsland.
This 30-minute conversation with clergy and guests will explore matters of modern-day life from an Anglican perspective.
Tune in to 103.9 FM on Sundays at 6:30 AM or catch the replay on Wednesdays at 7:30 PM.
Scroll down for program details and topics.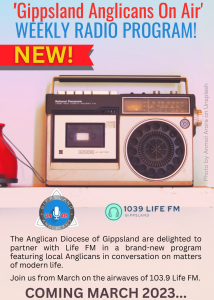 Program details
Information
| | |
| --- | --- |
| Sunday 5/3/2023 6:30 AM (repeats Wed 8/3 7:30 PM) | What does it mean to be an Anglican? - The Rt Revd Dr Richard Treloar, Bishop of Gippsland and The Very Revd Keren Terpstra, Dean of Sale Cathedral. |
| Sunday 12/5/2023 6:30 AM (repeats Wed 15/3, 7:30 PM) | How can we take action everyday for the environment and live the gospel? - The Venerable Sue Jacka, Archdeacon and guest. |
| Sunday 19/5/2023 6:30 AM (repeats Wed 22/3 7:30 PM) | The Revd David Perryman and Revd Anne Perryman discuss Intergenerational Ministry - why does it matter? |
| Sunday 26/3/2023 6:30 AM (repeats Wed 29/3 7:30 PM) | TBC |