We acknowledge the First Nations people of this region as the traditional custodians of the land on which the Diocese of Gippsland serves, and pay our respects to past, present and emerging Elders of the GunaiKurnai, Boonwurrung, Bidawal and Ngarigo/Monero peoples.
Committed to Reconciliation
Our Diocesan Vision 2021-2024 asks us to "reconcile where there is injustice or injury".
In Gippsland, the Anglican community is committed to the support of Aboriginal Ministry as one the ways to reconcile the past for a better future. The path of reconciliation between non-Aboriginal and First Nations cultures is a sensitive and sometimes painful journey. The harms of past events continue to affect people, families, communities and our shared society today. We want to do our part to reduce the harms until all Australians have equal opportunities regardless of their cultural heritage.
First Nations Countries and Gippsland
We acknowledge and respectfully support the work of First Nations Peoples who are working to repair and strengthen relationships within and among communities which were damaged by colonisation and the associated and subsequent actions of colonisation.
This map is our best effort to represent the intersections of First Nations Countries with the Gippsland Diocesan area. We have referred to information that is available from Registered Aboriginal Parties and the Victorian Government. We apologise unreservedly if any detail on this webpage does not reflect current agreements. Please let us know if there is a problem – email hello@gippslandanglicans.org.au or visit Contact | Gippsland Anglicans for options.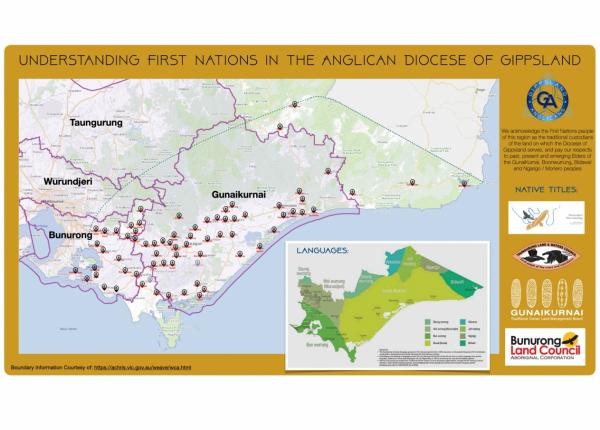 We invite you to visit other trusted sources of information to learn more about First Nations Countries and cultures. A good start is:
Aboriginal Ministry
Aboriginal Ministry in Gippsland is delivered by two ordained Aboriginal women - the Revd Canon Aunty Phyllis Andy and The Revd Kathy Dalton. They are available to support Aboriginal people and families across Gippsland, and they are sometimes called to travel across Victoria and interstate to support families in times of Sorry business. Their work in community is culturally safe, extensive, flexible, caring and responsive.
You can get to know Revd Canon Phyllis and Revd Kathy a little more in their conversation with The Right Revd Dr Richard Treloar, Bishop of Gippsland and Revd Edie Ashley. click to view (36:14)
"We are learning and we are on this journey of reconciliation and healing together." The Revd Kathy Dalton
| "We…make [ministry] significant in our cultural way." The Revd Canon Aunty Phyllis Andy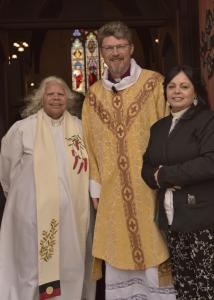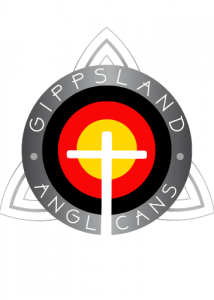 Fundraising – we welcome your financial support
We welcome your donations to our Indigenous Ministry Fund. All donations directly support Aboriginal Ministry in Gippsland. Please donate or pledge today.
DONATE: your one-time gift helps us to reach our annual fundraising target. Click here to read more or donate.
PLEDGE: your recurring donations help us to secure the future of Aboriginal Ministry in Gippsland. You choose how much and how often you give – weekly, fortnightly monthly, annually… it's up to you. Click here to read more or make a pledge.
DIRECT DEPOSIT: Donations can be made by direct giving: BSB: 705 077 A/c: 00040720 Ref: Aboriginal Ministry
TELL OTHERS: We are really proud of our support of Aboriginal families and community through Aboriginal Ministry. We invite you to share the pride with us. Please talk about Aboriginal Ministry with the people you meet, and those who you know on social media. To help you, download the social media images, or the brochure for emailing or printing.
Reconciliation Prayer (transcribed from video) and published at Reconciliation Week Prayers (natsicc.org.au)
We invite you to pray with The Rt Revd Dr Richard Treloar, this Reconciliation Prayer
Reconciliation Prayer
Holy Father, God of Love, You are the Creator of all things.
We acknowledge the pain and shame of our history and the sufferings of Our peoples, and we ask your forgiveness.
We thank you for the survival of Indigenous cultures. Our hope is in you because you gave your Son Jesus to reconcile the world to you.
We pray for your strength and grace to forgive, accept and love one another, as you love us and forgive and accept us in the sacrifice of your Son.
Give us the courage to accept the realities of our history so that we may build a better future for our Nation.
Teach us to respect all cultures. Teach us to care for our land and waters. Help us to share justly the resources of this land. Help us to bring about spiritual and social change to improve the quality of life for all groups in our communities, especially the disadvantaged. Help young people to find true dignity and self-esteem by your Spirit.
May your power and love be the foundations on which we build our families, our communities and our Nation, through Jesus Christ our Lord.
(Wontulp Bi-Buya Indigenous Theology Working Group 13 March 1997 Brisbane, Qld).