back
back to main news
Reconciliation Week
May 28th, 2020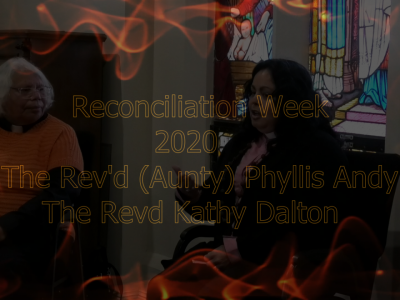 A Conversation in Reconciliation Week
Join Bishop Richard for a conversation with our two Indigenous priests, The Revd Phyllis Andy and the Revd Kathy Dalton, together with The Revd Edie Ashley who has worked alongside Phyllis and Kathy to support Aboriginal Ministry in the Diocese for many years.
In this interview we learn a little more of the ministry that Kathy and Phyllis exercise within and beyond their parishes (Morwell, and Lakes/Metung, respectively). We reflect on the 20th anniversary of the Walk for Reconciliation over the Sydney Harbour Bridge on 28 May 2000, and on the theme for Reconciliation Week this year: 'In this together.'
Phyllis and Kathy also talk openly about the pain of our colonial history, about the importance of truth-telling, and the need for current and future generations to hear and learn the stories that carry the great cultural and spiritual riches of our First Nations people.
In a year when Pentecost falls in the middle of Reconciliation Week, Bishop Richard reflects on the Gospel ministry of reconciliation in his sermon for the pre-recorded Eucharist at St Paul's Cathedral for Sunday 31 May, which will be available for viewing via the Diocesan website from the afternoon of 30 May.
Donations to support Aboriginal Ministry in the Diocese of Gippsland can be made by direct giving: BSB: 705 077 A/c: 00040720 Ref: Aboriginal Ministry
The conversation with Phyllis, Kathy, and Edie can be viewed HERE.