back
back to calendar
Accessible Book Club, weekly online, 7 Sep - 26 Oct
EVENT DATE: October 26th, 2023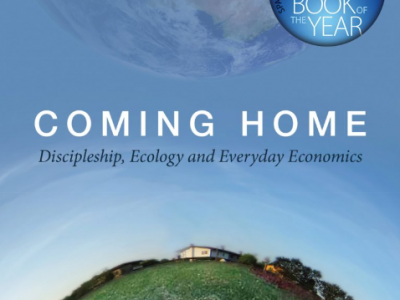 Accessible Book Club is a way for all Gippsland Anglicans to join in a friendly and welcoming group to read and discuss a recommended book.
Using radio and online places, people from all corners of Gippsland can connect and grow during Season of Creation 2023. Click here for full details
It's easy to join in! Each week, read a chapter of the chosen book, or listen on 103.9 Life FM. Then come to an online catch up to share your ideas. You'll need internet access for the group time - we will use Zoom. Your Parish will help if you don't have that at home.
Here's the meeting link to use each week: https://us02web.zoom.us/j/83279996650
The book we are discussing is Coming Home, by Jonathan Cornford, Morning Star Publishing. Their review says:
Coming Home seeks to make a real and practical connection between faith, the way we live, and the great ethical and environmental challenges of our time.
The review on the Publisher's website reads, "It takes seriously the ways in which the shape of our household economy – our work, leisure, consumption, investment and use of time – impact our relations with others, with the earth, and with God. It provides a Christian vision of daily life that holds together the profound and the practical. Coming Home discusses subjects that are central to the lives of every person who knows that faith in Christ should make a difference.
In Coming Home, Jonathan Cornford joins biblical theology with analysis of contemporary problems to help chart a practical, hopeful and life-giving path through troubled times."
If you prefer a hardcopy of the book, copies can be purchased from www.mannagum.org.au/publications. The registry office has a small number of copies that can be borrowed. Call (03) 5144 2044 to enquire.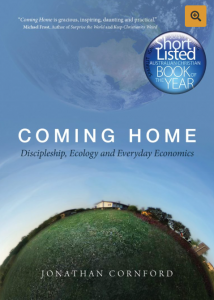 TOPICS
Week 1 - Introduction, read by author Jonathan Cornford podcast link
Week 2 - Ch1, Hospitality, read by Bishop Richard Treloar: Life FM broadcast 103.9 FM, 3/9/2023 podcast link. Online discussion: Thurs 7th Sep, 6-7 PM
Week 3 - Ch2, Work and Leisure, read by Revd Cathy Turnbull: Life FM broadcast 103.9 FM, 10/9/2023 podcast link. Online discussion: Thurs 14th Sep, 6-7 PM
Week 4 - Ch3, Consumption, read by Gippsland Grammar student, Oscar Hill: Life FM broadcast 103.9 FM, Sunday 17th Sep, 6:30 AM (repeats on Wednesday 20th September). podcast link Online discussion: Thurs 21st Sep, 6-7 PM
Week 5 - Ch4, Sustainability, read by Dr Ann Miller: Life FM broadcast 103.9 FM, Sunday 24th Sep, 6:30 AM (repeats on Wednesday 27th September). Online discussion: Thurs 28th Sep, 6-7 PM
Week 6 - Chapter 5, Giving: Life FM broadcast 103.9 FM, Sunday 1st Oct, 6:30 AM (repeats on Wednesday 4th October). Online discussion: Thurs 5th Oct, 6-7 PM
Week 7 - Chapter 6, Savings and investment: Life FM broadcast 103.9 FM, Sunday 8th Oct, 6:30 AM (repeats on Wednesday 11th October). Online discussion: Thurs 12th Oct, 6-7 PM
Week 8 - Chapter 7, Debt: Life FM broadcast 103.9 FM, Sunday 15th Oct, 6:30 AM (repeats on Wednesday 18th October). Online discussion: Thurs 19th Oct, 6-7 PM
Week 9 - How do these things affect our relations with others, the Earth and God? : Life FM broadcast 103.9 FM, Sunday 22th Oct, 6:30 AM (repeats on Wednesday 25th October). Online discussion: Thurs 26th Oct, 6-7 PM