back
back to calendar
Ecumenical Advent Conversation 2023
EVENT DATE: November 23rd, 2023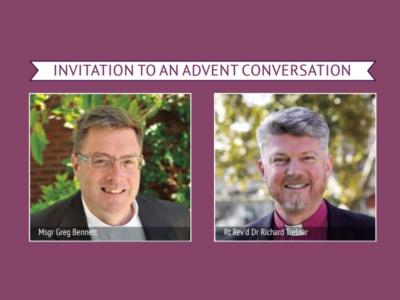 The Anglican and Roman Catholic Bishops in our region of Gippsland will again co-host an ecumenical conversation in November in preparation for the season of Advent. This will be the sixth Conversation convened jointly by the two dioceses reflecting the ongoing interest and support of clergy and lay people from both traditions for this ecumenical initiative.
The two bishops are inviting parishioners from each diocese to join with them in an Advent Conversation based this year on a seasonal study of the Psalms and Canticles from our common lectionary, alongside some of the great Advent themes.
Once again we are fortunate that the Conversation will be led by eminent scholars from both traditions – Dr Ross Fishburn and Dr Mary Reaburn, NDS – from the Yarra Theological Union,a college of the University of Divinity, in conjunction with the bishops.
Date: Thursday 23 November Time: 10 am (coffee and tea available on arrival from 9.30 am) and concluding with a short service of ecumenical worship at 3.15 pm. Venue: The Abbey, Raymond Island
For further information and bookings, which are essential for catering purposes and any accommodation needs, contact Anna at The Abbey on 5156 6580, info@theabbey.org.au.
Download flyer here…