back
back to calendar
Play along! Celebrating Creation Gippsland Facebook page
EVENT DATE: October 4th, 2022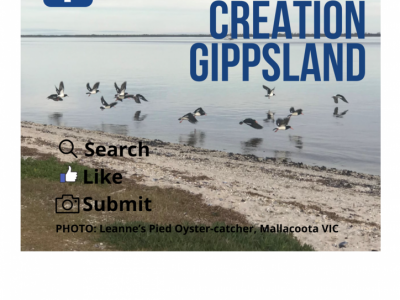 Show us your favourite things in creation from your part of Gippsland!
From Nar Nar Goon in the west, to Mallacoota in the east, and Omeo in the north to Phillip Island in the south - Gippsland is full of the beauty of creation.
Share with us your photos of your places - up close and earthy, or broad and full of the sky and atmosphere - we want to share your joy in God's creation near you.
To join in, go to Facebook and search "Celebrating Creation Gippsland". LIKE the page and post your pics!
The page is always open, but we want to celebrate the Season of Creation (1 Sept - 4 Oct) especially.