back
back to main news
Aboriginal Ministry Attracts $170,000 Grant
December 1st, 2022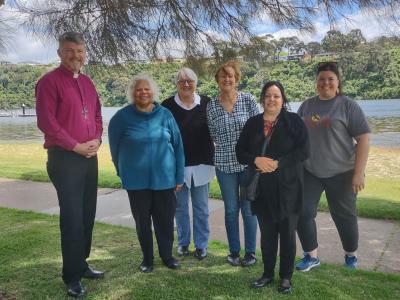 Aboriginal Christian Ministry within the Anglican Diocese of Gippsland will be supported over the next three years by a $170,000 grant.
Culturally Safe and Strong Aboriginal Ministry in Anglican Diocese of Gippsland Attracts Funding Through City To City Australia.
Pictured L-R: The Right Revd Dr Richard Treloar, The Revd Canon Aunty Phyllis Andy, The Revd Edie Ashley, The Venerable Sue Jacka, The Revd Kathy Dalton, Libby Willems. Photo credit: Richard Connelly
Aboriginal Christian Ministry within the Anglican Diocese of Gippsland will be supported over the next three years by a $170,000 grant.
Culturally safe and strong Aboriginal Ministry in Gippsland is delivered primarily by respected Elder, Minang and Wotjobaluk Woman, The Reverend Canon Aunty Phyllis Andy, and proud Taungurong and GunaiKurnai Woman, The Reverend Kathy Dalton.
The grant, facilitated by City To City Australia via an anonymous philanthropic donor, will enable better access to spiritual care for healing and growth for Aboriginal people, families and communities across Gippsland.
"We are committed to Aboriginal Ministry in this Diocese, which reaches across GunaiKurnai, Boonwurrung, Bidawal and Ngarigo/Monero Countries", said The Right Reverend Dr Richard Treloar, Bishop of Gippsland. "This new partnership builds our capacity to support our two Aboriginal priests and to extend the vital work they do in their communities. Aunty Phyllis and Kathy encourage and challenge us all to give concrete, contextual expression to the gospel ministry of Reconciliation, and this is a great opportunity to learn more deeply from and walk together with First Nations people in Gippsland."
Gippsland Anglicans were invited by national church planting and revitalisation agency, City to City Australia, to apply for funding to support and grow Aboriginal ministry across Gippsland. The funding is critical to the delivery of Aboriginal Ministry which relies largely on donations and grants.
Over the next three years, Revd Kathy will be supported to develop women's groups leading to greater community and outreach opportunities, establish home-based Bible Study groups, provide culturally safe and strong gatherings for Aboriginal community, and plant an Aboriginal congregation in Morwell. Revd Canon Aunty Phyllis will primarily work with local Aboriginal people and families in and around Lake Tyers, Lakes Entrance and Bairnsdale through pastoral ministry, and will provide strong gospel gatherings for Aboriginal community that encourage the growth of faith.
"Our community feel proud when they see Aboriginal people taking a service and delivering the message of God. Our Ministry in Gippsland helps to build trust and respect in Christian faith and with non-Aboriginal priests too," said Revd Canon Aunty Phyllis Andy.
"This project will let us bring God's love and understanding to Aboriginal people in a cultural and spiritual wellbeing way. We will meet more people on their life's journey and share Christ's love with them," said Revd Kathy Dalton.
Dr Mark Morley, Chief Operations Officer, City to City Australia said, "We are delighted to partner with the Diocese of Gippsland to plant more ministries and churches, and to reach more people with the gospel – particularly in hard-to-reach places. This partnership, including the provision of significant training, coaching and mentoring for these two First Nations ministers, will be an opportunity to share with First Nations people in Gippsland the breadth and depth of the love of God in Jesus Christ."
People are invited to find out about Aboriginal Ministry in Gippsland by visiting https://www.gippslandanglicans.org.au/aboriginalministry . We warmly welcome donations to this ministry. Options are included on the website or call Diocesan Development Officer, Libby Willems on 0458 265 198.