back
back to main news
Cathedral Service for the 4th Sunday in Advent
December 18th, 2021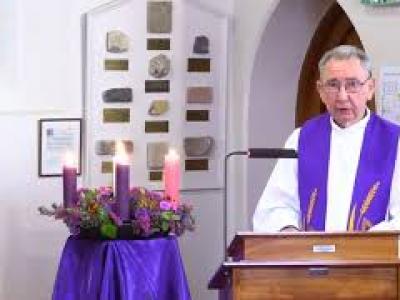 Dear brothers and sisters in Christ,
Greetings on the Fourth Sunday of Advent!
For this pre-recorded Eucharist from St Paul's Cathedral in Sale, Acting Dean Liam Matthews is the preacher, and we are joined in the sanctuary by Cathedral Deacon, The Revd Kate Campbell.
Christine Morris is behind the camera this week, and the Registrar at the editing desk. Our thanks to these generous souls and the entire Cathedral and Registry teams who have facilitated these online offerings again during 2021.
We will be taking a break from recording services from this weekend until sometime after January, and look forward to reconnecting with our online worshipping community in Gippsland and beyond early in a new year of grace.
On behalf of everyone involved, I wish you all the joy, peace, and hope of the Christmas season ahead, and a safe and restful holiday period.
Please enjoy the beautiful arrangement of Silent Night performed by choristers of Gippsland Grammar during the most recent COVID lockdown. It comes with the compliments of the Director of Gippsland Grammar's Music and Performing Arts department, Dr Kevin Cameron, and is accompanied by a photo montage of some of the School's Music and production events during 2021.
With every blessing, +Richard