back
back to main news
Christmas Day Eucharist from St Paul's Cathedral Sale
December 24th, 2020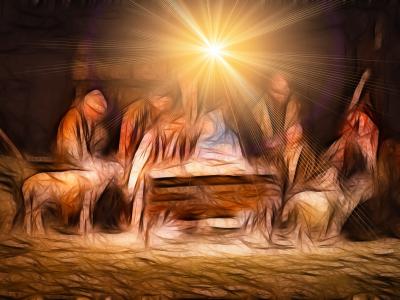 Dear brothers and sisters in Christ,
As we gather face to face and remotely to keep the feast of the Incarnation, we are pleased to be able to offer a pre-recorded Christmas service from St Paul's Anglican Cathedral Sale, in the Diocese of Gippsland in this video.
For this Eucharist I am joined by the Dean, Susanna Pain, and by diocesan Lay Reader and Ordinand, Kate Campbell.
I take this opportunity to thank the many people who have enabled us to offer this online ministry since mid-March of the most challenging year: • the Cathedral Parish for its hospitality; • the Dean and her team of clergy and lay leaders; • those who have helped lead the music, including Anthony Hahn (Cathedral Organist), Jenny Batten, Suzanne Morris, Jan Lear, Rita Weir, Nick Nagy, Susanna Pain, and occasional preachers who have willingly added their voices to the pre-recording of a hymn; • those who have faithfully filmed hundreds of hours of liturgy and interviews, including Richard Connelly, Christine Morris, Dave Perryman, and Ann Miller; • those who have painstakingly edited the same, especially the Registrar, and Dave Perryman; • all of the preachers – lay and ordained – who kindly agreed to make an offering into the lens of the camera, not knowing who might be watching, or where, and who participated afterwards in a filmed 'fireside chat' with their bishop, with no prior warning as to what questions might be asked! • Jackie Belot, Chaplain at Gippsland Grammar and diocesan Lay Reader, who provided the vast majority of online children's talks; and • everyone who graciously offered feedback and encouragement throughout the last 9+ months, helping us to make improvements and giving us the sense that these weekly services have been meeting a need. There will be a hiatus in our zoom worship during January, and we will think and pray through what might be helpful beyond that as we (hopefully) move further into 'COVID normal' conditions.
For all of our isolation this year, which started with the devastating fires in east Gippsland 12 months ago, we have somehow experienced a greater sense of connectedness in our diocesan family.
I trust this is your experience also, and that these services from the mother church of the Diocese have contributed in some small way to it.
May 2021 be indeed a new year of grace, and may the peace and hope that is ours in the Christ child be yours this Christmas.
+Richard