back
back to main news
Creative climate for op shops
September 1st, 2022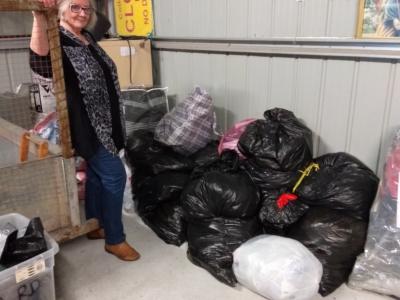 By Sally Woollett
This month heralds the Season of Creation, and perhaps a spring to the step. We might be tempted to spring clean the wardrobe to make room for some spring fashion. What to buy, and what to throw out? These decisions affect people and ecosystems around the world.
Op shops are a good choice for some pre-loved items. Quality clothing that no longer fits can be loved by someone else, and op shops can use the income to continue their community work. However, many donated clothing items are never sold, and some items are far from suitable.
"It horrifies me," says Kerri Brown about the approximately six cubic metres of hard rubbish that she and her team of volunteers must send to landfill each week. Kerri has been volunteer manager of Moe, Newborough and Yallourn North shops for the past five years. In what will be a familiar story to the many diocesan op shops, she sees large volumes of these 'donations', as well as up to 40 bags, at 12 kilograms each, per week of unusable clothing.
Kerri and her volunteers must sort the rubbish from the donations. Lower quality clothing goes to op shops that don't receive many donations. About half of the three to five cubic metres of clothing donated each day is not cycled into stores. Anything unfit for resale might be used as industrial rags, or shipped overseas – ostensibly to markets in countries such as Ghana and Nigeria. The reality is that most of it goes to unmanaged landfill, where it causes health problems for local communities and their environment.
In the 2017 report 'A new textiles economy: redesigning fashion's future', the Ellen MacArthur Foundation reported that about half a million tonnes of plastic microfibres from the washing of plastic-based textiles such as polyester move into the ocean each year. Similarly, plastic pollutants from synthetic textiles can also move into the environment from rubbish dumps. What's more, the industry uses huge amounts of fossil fuels and water, and emits significant amounts of greenhouse gases. Industry practices in unregulated countries include discharging untreated production wastewater, dangerous working environments, low wages and long hours. The collapse of the Rana Plaza garment factory in Dhaka, Bangladesh in 2013 caused the deaths of more than 1000 people and brought to light the appalling abuse of human rights happening in some parts of the textiles industry.
Cost is a significant limitation in the decision to buy sustainably, especially in low socioeconomic areas. Clothing budgets are dropping as food and utility prices rise. The impact of rising oil prices will eventually be seen in the cost of many consumer products, including synthetic fabrics. Plus there's a big temptation to preference new over old, says Kerri: "Kmart are a couple of kilometres up the road, selling kids' t-shirts for a couple of dollars; so do we, but the clothing quality and ethics are far superior. It's a massive problem and one that I fear will never be resolved until everyone is educated."
It's a huge transition to move from a linear to a circular industry but advocacy, consumer awareness and uptake are increasing. Consumers are being supported more and more to make informed decisions – knowing who is making clothes and under what conditions, what resources are used to make them and how long they last. GOTS, the Global Organic Textile Standard, stipulates requirements throughout the textiles supply chain for both ecological and labour conditions in textile and apparel manufacturing using organically produced raw materials.
The Sustainable Apparel Coalition, joined by companies including fashion giant Uniqlo, has developed a suite of tools called the Higg Index, to "assess the social and environmental impacts of the value chain and the environmental impacts of products." Ethical Clothing Australia publishes a digital shopping map of where to buy ethically, as well as a guide to the Melbourne Fashion Festival. This accreditation body advocates for the rights of Australian garment workers. Charities such as Oxfam and Baptist Fund publish ratings for the bigger fashion companies, scoring them on such things as risk and governance, worker empowerment and environmental sustainability. Shop Ethical! publishes a list for clothing as well as what's behind the products in your shopping trolley in terms of food miles, factory farming, overfishing, packaging and palm oil.
In the current climate, both environmentally and socioeconomically speaking, op shops may find themselves with more of a voice in the call for ethical fashion. Shopping 'vintage' has been popular for a while, particularly with a generation of young people very aware of the impacts of global warming. Upcycling and repair workshops are becoming popular. As awareness increases, op shops like Kerri's with affordable and more sustainable clothing, could become more attractive. Kerri agrees they could play a bigger role in the awareness-raising and education needed to make the clothing life cycle better for the planet.
For more information
https://ethicalclothingaustralia.org.au/shop-ethically/digital-shopping-map
https://www.oxfam.org.au/what-she-makes/naughty-or-nice-2021
https://www.oxfam.org.au/what-she-makes/about-the-campaign
https://baptistworldaid.org.au/resources/ethical-fashion-guide
https://fairtradeanz.org/product-finder/product-category/cotton