back
back to main news
Gippsland Communities Raise over $31,000 For Humanitarian Aid in Ukraine.
July 20th, 2022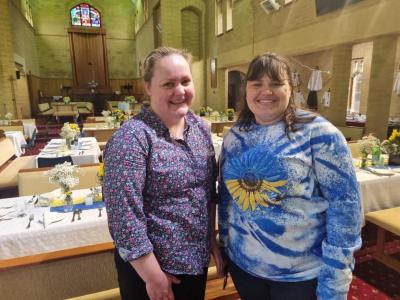 The Anglican Parishes of Leongatha and Mirboo North joined forces with the South Gippsland community to raise over $31,000 during May and June for on-the-ground humanitarian aid in Ukraine by hosting two gala events, a dinner in May and a luncheon in June, that offered a three-course Ukrainian feast and stories from guest speakers, live from Ukraine.
Ukrainian-Gippslander, Olga Rysko migrated to Australia in 2005 and now lives in South Gippsland with her children. Through her daughter's school community, Olga met school parent The Revd. Belinda Seabrook, Parish of Mirboo North, and together the women devised the fundraising event and recruited a team from the Anglican and wider community to deliver the event.
Over $31,000 was raised at the two gala events. All donations of the gala are supporting on-the-ground humanitarian aid to people in Ukraine. Food, shelter, clean-up of debris, emotional and physical assistance to refugees are all current and urgent needs. Donations can still be made by direct deposit (details below).
Attendees were treated to a Ukraine-themed meal and decorations at St Peter's Anglican Church, Leongatha. Sunflowers (the floral symbol of Ukraine) and the blue and yellow colours of the of Ukraine flag were abundant. Local musicians played for guests as they were treated to a three-course Ukrainian feast, beginning with traditional borscht soup and ending with an assortment of six different homemade desserts including honey cake, poppyseed pastry and caramel wafers. All the food was generously donated by local businesses, and made with love and skill by local caterers and cooks.
Guest speakers included Olga Rysko who talked of her 84-year-old mother and sister living in Kiev that have been subjected to significant bombing around their neighbourhoods.
Via a live video-link to Kaharlyk, Ukraine, stories from Olga's home-town church friends were shared with the attendees.
Attendees also heard directly from Australian Christian pastor and missionaries Daniel and Pricilla Gollan and their daughter Elle, and Shane and Jemimah Paxa. All have lived in Ukraine for many years, and are staying to support the war-affected people during this current conflict.
"The heart-breaking situation in Ukraine has stirred within the community great compassion and generosity. We are just everyday people doing our best to encourage everyday people in an impossible situation. Our hearts go out to the people of Ukraine" - Anglican Parish of Mirboo North, The Revd. Belinda Seabrook.
"Donations can still be made to the Ukraine humanitarian aid fund. All money deposited will go directly to Ukraine. Please remember to put the reference 'Ukraine'. Thank you for your support." - Anglican Parish of Mirboo North, The Revd. Belinda Seabrook.
"We have a wonderful community who responded with practical and financial help and support. We are just responding to the pain of the people of Ukraine" - Ukraine-Gippslander, Olga Rysko.
Direct Deposit for Ukrainian Fundraiser
Leongatha Anglican Church
BSB- 083 735
Account- 515883623
Reference- Ukraine