back
back to main news
Good Friday
April 9th, 2020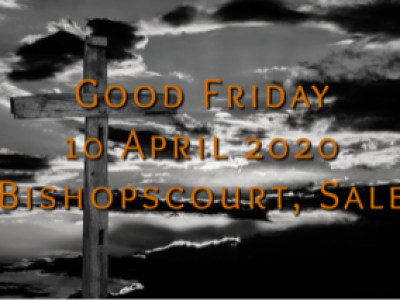 This video resource offers viewers a chance to participate remotely in a Solemn Liturgy for Good Friday, 10 April 2020.
The service was recorded in the Chapel at Bishopscourt, Sale, with Dean Susanna Pain co-officiating
In the homily, I offer Part 3 of a four-part series, 'Through the Eyes of Mary Magdalene'. Part 1 was delivered during the Palm Sunday service, and Part 2 in the Eucharist for Maundy Thursday (both also available via this website). Part 4 will be included in the Easter Vigil on Holy Saturday.
Video link: https://youtu.be/y4pWpY0M3L4
This audio file is available for those with limited data availability.
https://soundcloud.com/user-799339262/good-friday-service-at-st-pauls-cathedral-sale
Please feel free to share this resource with anyone you feel may benefit from it.
There is one body and one Spirit, just as you were called to the one hope of your calling: one Lord, one faith, one baptism, one God and Father of all, who is above all and through all and in all. (Eph 4:5-6) May we draw on the unity that is ours in Christ all the more deeply in these days when we feel the pain of separation.
Grace and peace, +Richard