back
back to main news
Partnering with Beyond Blue in bushfire recovery
October 4th, 2021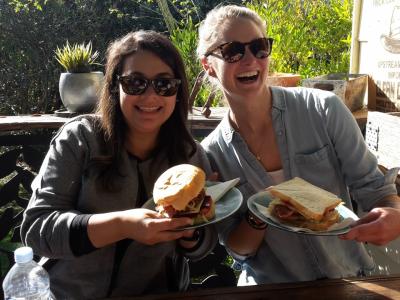 By Cathy Turnbull
In late May this year, I had the privilege to work with two wonderful researchers across a number of bushfire affected communities in East Gippsland. The researchers were commissioned by Beyond Blue to look into how to best connect with remote rural communities, in particular following a natural disaster event such as a bushfire, and to assist with recovery, in particular people's mental health needs.
This research project was unique in that it was designed around the idea of a small number of participants. This allowed the researchers to go deeper into the experience of participants to better understand the needs of individuals and communities following the bushfires. With this in mind, I organised for 10 different individuals to be part of the project.
The people involved lived across a number of different communities impacted by the bushfires and provided a broad spectrum of experience. I also organised a couple of opportunities to informally connect with small groups of people and business owners, including a Men's Shed and a community food bank. Overall, the experiences included those of farmers, a single mum, a CFA captain, small business owners, volunteer community leaders, a neighbourhood house coordinator, youth, a bush nurse and clergy across a large age demographic with the youngest being 21 and the oldest in their 80s.
It was a busy week, driving the researchers around the district. Each of the 10 people involved in the project spent one to two hours with the researchers in a relaxed, informal interview setting.
The feedback from each one was positive and they found it enjoyable, which was a credit to the two researchers' ability to relate to and listen deeply to what people were telling them about their experience and how they felt mental health services could be improved in their local area. As we travelled around, it was good to be able to support each town's local businesses for our meal and coffee breaks – the researchers enjoyed in particular their Buchan Burgers from the Buchan Valley Roadhouse.
Due to COVID restrictions, we have only had one feedback session from the researchers and Beyond Blue, via Zoom, but they are hoping to be able to travel to East Gippsland soon to provide an opportunity for feedback on outcomes achieved by the research project for those who participated in the interviews.
So far, the feedback has been really positive and, despite the breadth and depth of the interviewees, some really important common themes came through. It is hoped that this project will lead to positive change in the way mental health providers such as Beyond Blue can reach out to remote rural communities impacted by natural disasters in the future.
It was a great project for the Diocese, through our bushfire response, to be part of, and an important one – as we are all discovering with the prolonged impact of COVID on the mental health of so many.
The Rev'd Cathy Turnbull is Missional Deacon for the Eastern Region (Bushfire Response), Anglican Diocese of Gippsland.