back
back to main news
Revd Belinda Seabrook appointed as Priest in Charge of Mirboo North!
July 27th, 2021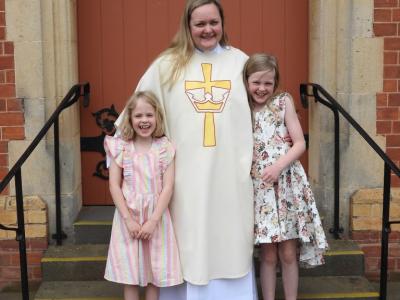 The Diocese is please to announce the appointment of the Revd Belinda Seabrook as Priest in Charge of the Parish of Mirboo North!
Belinda will start this new role in a part-time capacity at two days per week on Sunday 8 August.
Belinda will continue to serve in Leongatha as Associate Priest the other four days each week for the time being, with a view to her ministry fraction in Mirboo North increasing in the months ahead, becoming her primary focus.
She and her two children, Katherine and Eleanor, live in Mirboo North, and have come to know the community and the district well.
As one who is relatively new to the order of priests, though with extensive experience as an authorised stipendiary lay minister, Belinda will benefit from the continuity, support, and supervision that her ongoing role in Leongatha will provide.
Belinda brings energy, a passion for connecting with those on the edges of the church community, gifts in music and liturgy, intergenerational instincts, and a pastoral heart formed by good spiritual disciplines and theological study at a high level.
An Induction service to celebrate this new beginning of Belinda's ministry as Priest in Charge will be held at St Mary's Mirboo North at the earliest possible date, subject to COVID restrictions, and further information about that will follow in due course.
Please join us in praying for Belinda, and for these two parishes, in a time of transition.