back
back to main news
The Revd Canon Gradwell Fredericks appointed Rector of Traralgon
September 14th, 2023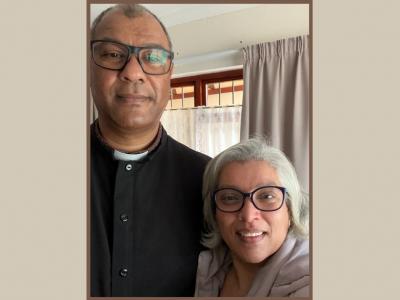 The Diocese is joyful in sharing glad tidings of Gradwell Fredericks' appointment as Rector of the Parish of Traralgon, on the unanimous recommendation of a very diligent and hard-working Clergy Appointments Advisory Board!
Gradwell and Tania come to Gippsland – and Australia – from Cape Town in South Africa, where he is Rector of the large Parish of All Saints', Belhar, in the Diocese of False Bay. Prior to this he was Chaplain of St Alban's, an Anglican school in Pretoria. Gradwell has served as 'Warden of Vocations' and 'Warden of Ordinands' in his Diocese, working with those exploring a call to ordained ministry and those preparing for ordination. Other parish appointments over his almost 20 years in holy orders include the fishing village of Hout Bay and the township parish of Steenberg. Having started a law degree, and worked in the private sector for more than a decade, Gradwell describes his call to ministry and introduces himself and Tania as follows: "The call to the priesthood first came in 1976; a call to which I responded more than twenty years later. After four years of testing my vocation to the ordained ministry, I joined the College of the Transfiguration in Grahamstown, a residential seminary, to complete my residential theological training full time. I was made a transitional deacon in 2005, and ordained priest in 2006, in the then undivided Diocese of Cape Town. On a more personal note, my wife Tania and I will celebrate thirty years of marriage in November this year. Tania spent eight years working in the medical field as a depot administrator at a pathology company. With our relocation to Pretoria, she took on a new role, as the boarding house administrator of St Alban's College. After our return to Cape Town, she started her own venture: a beauty and skin care studio, Wonder Well. We have two children. Our daughter, Caryn, is 29 and married to Joshua. They have a three-month old boy, Sebastian. Both Caryn and Joshua are attorneys. Our son, Paul, is 22 and graduated this year with a bachelor's degree in humanities. He is currently working as a claims administrator for an Australian company – an irony that is not lost on us! My ministerial strength is people – meeting them where they are and journeying with them. I believe that each person's journey is unique and sacred and that it is in these spaces that compassionate and empathetic ministry takes place. We are excited at the prospect of relocating to Australia, to Gippsland, and establishing ourselves amongst the people of Traralgon, Glengarry, and Toongabbie."
We look forward to Gradwell and Tania's arrival in late November, and to an Induction to follow on a date to be advised. In the meantime, we give thanks for the unstinting care and guidance of Locum Priest Marilyn Obersby, ably and generously assisted by Amy Turner, Clem Watts, and Brenda Burney, and for the faithful baptismal ministry of the Parish's lay leaders. Please join me in praying for Gradwell and Tania as they prepare for this big move.