back
back to main news
The Revd Keren Terpstra appointed Dean of the Cathedral Parish of Sale!
February 27th, 2022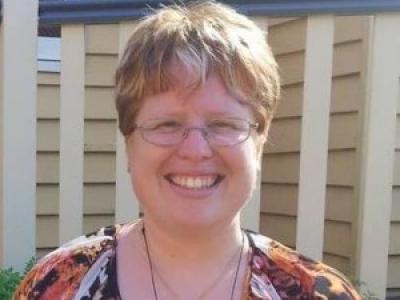 The Diocese is delighted to share the glad tidings that The Revd Keren Terpstra has accepted an invitation to be the Dean of our Cathedral Parish in Sale!
Keren comes to Gippsland from the Dioceses of Melbourne, Sydney, and Brisbane. She is currently the Incumbent at St Margaret's in Eltham, where she has served since 2016 and will be much missed.
Keren's appointment was unanimously supported by members of the Cathedral Presentation Board, including the three Lay Canons. Over the course of a number of telephone and zoom conversations, and several visits to Sale, it became clear to both parish and diocesan representatives – and to Keren herself – that there is a strong sense of call to this new ministry, for which she has been warmly commended to us and is well equipped.
Keren holds a Masters degree with first class honours in Music from Sydney University, and is an accomplished organist (AMusA) and harpist. Enabling and composing good contemporary and traditional church music is an integral part of Keren's love of liturgy, and is a means of nurturing both her own and others' gifts – something that is central to her vocation more generally.
Having contributed at St Mary's Waverley in a variety of lay ministries during her music studies in Sydney, Keren returned to her home city of Brisbane to test a calling to ordained ministry at St Francis Theological College and through Charles Sturt University, gaining a Bachelor of Theology, also with honours. After a two-year curacy at Trinity Anglican Mission, Robina, Keren had the cure of souls for seven years in the Parish of Booval, in the western reaches of the Diocese of Brisbane, where she was Area Dean for a season.
A person of great spiritual discipline, Keren values professional supervision and spiritual direction in taking responsibility for her self-care – a ministry in which her faithful cat Gabrielle also participates!
Keren looks forward to the diocesan and wider church connections that come with being the Incumbent at Sale. A member of Provincial Council, she is the inaugural President of an inclusive forum in the Province called Victorian Anglicans Together, and is actively involved in the HeartEdge movement.
We eagerly anticipate welcoming Keren towards the middle of the year, and she is very excited to be coming to Sale and to Gippsland, and at the prospect of working closely with lay and clerical colleagues at St Paul's and across the Diocese. Please join me in praying for Keren as she prepares for this transition.
In the meantime, we continue to uphold in prayer the Acting Dean, Liam Matthews, and the clergy and people of the Cathedral Parish, grateful for their unstinting ministry locally and beyond.